Medcare and SHAKEHEART Conference Raises Awareness of Heart Disease and Prevention in the UAE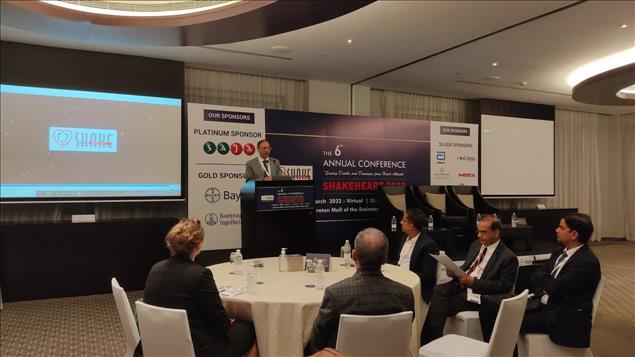 Dubai: The conclusion of the sixth edition of the Medcare Hospitals & Medical Centres and SHAKEHEART Conference was attended by 300 participants from the medical field who come together to raise awareness and share knowledge of the critical need for early detection and treatment of heart attacks – Acute Myocardial Infarction. Bringing together international cardiac specialists, the SHAKEHEART Conference saw a call for greater awareness, preventive action, and community education to help stem the rise of heart disease and complications across the UAE population, with the threshold of heart attack incidence now falling between 30-40 years of age.
With a clear disparity between 'what can be done' and 'what is actually done' – the SHAKEHEART 2022 conference was designed to bridge the gap by bringing together globally recognised consultants in the cardiac field to share insight, knowledge and best practice.
The annual event was held at Sheraton Mall of the Emirates, Dubai in a virtual and hybrid format conducted by over 40 expert faculty members from seven different countries. Headed by Dr. Brajesh Mittal, Head of Cardiology and Consultant Interventional Cardiologist and Deputy Medical Director at Medcare Hospital Al Safa, and Chairman of SHAKE (Saving Heart Attacks Key Efforts), attendees including nurses, paramedics, and doctors learning from a range of educational sessions and panels that covered topics including:
Everyday challenges in hypertension management
Chest pain triage
The cardiac impact of COVID-19 infections
Coronary care for women
Dr. Brajesh, in his mission to 'save deaths and damages from heart attack' launched the SHAKE Foundation in 2019 under the patronage of Dr. Azad Moopen, Chairman and Managing Director of Aster DM Healthcare Group. SHAKE aims to highlight ways of preventing heart attacks alongside early intervention through greater awareness of new medical techniques and preventative screenings.
"Extensive research has shown that when patients receive the correct, most advanced treatments in a timely manner, those suffering from acute heart attacks can, in fact, be saved and go on to live a very comfortable life going forward" said Dr Brajesh Mittal.
"I started my efforts in this direction in 2015 by holding annual conferences to not only educate medical practitioners across the country but to allow them to share their insight and experience with one another in order to make the community more knowledgeable. Together we are stronger. I am grateful to Medcare Hospitals & Medical Centres for supporting this initiative and always seeing the bigger picture when it comes to innovative medical treatments and practice" Dr. Mittal continued.
The SHAKE Foundation has previously conducted seminars for the general public to help them understand preventive measures as well as the importance of seeking advice early, in case of heart complications requiring potential medical intervention. Dr. Mittal also aims to educate people on how to take the correct action if one of them or a member of their family suffers from"STEMI- ST Elevation Myocardial Infarction"- known as the deadliest form of a heart attack.
About Medcare:
Medcare is the premium private healthcare provider under the parent group, Aster DM Healthcare. Medcare operates four leading state-of-the-art hospitals, including two multi-specialty hospitals (Medcare Hospital Al Safa in Dubai, and Medcare Hospital Sharjah), and two specialized hospitals – Medcare Women & Children Hospital, and Medcare Orthopaedics & Spine Hospital in Dubai. In addition, the Medcare network comprises of 15 medical centres in the UAE and Sharjah to serve the healthcare needs of the community. Treating more than 1.2 million patients every year in over 35 medical specialties, Medcare has established a strong presence in the UAE. Living by its simple promise "We'll Treat You Well", Medcare is fully committed to providing clinical excellence and personalized medical care to every patient.
Source: https://menafn.com/1104103226/Medcare-and-SHAKEHEART-Conference-raises-awareness-of-heart-disease-and-prevention-in-the-UAE