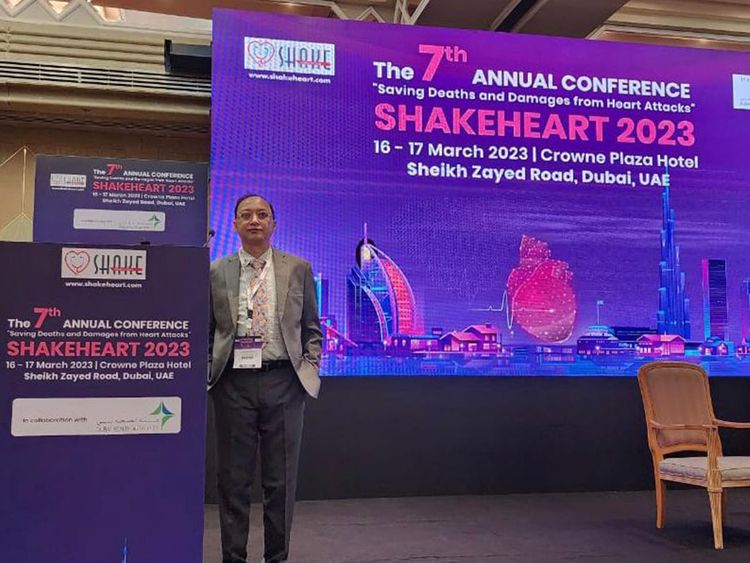 ---
Two-day heart disease conference addresses prevention and new advances in field of cardio
Cardio Vascular Disease (CVD) is on the rise in UAE with latest reports indicating that nearly 40 per cent deaths in the UAE that occur due to non-communicable diseases, are due to heart attacks. The average age for heart attacks has dropped to 50 years or less with obesity and sedentary lifestyles exacerbating the situation.
Eminent heart specialists mark their attendance
All this and more was discussed at the two-day annual CME-accredited Shake Heart Conference 2023 that was held in collaboration with the Dubai Health Authority (DHA) and the Health magazine on March 16-17 at the Crowne Plaza Hotel, Dubai. Dr Azad Moopen, Founder and Chairman, Aser DM Health Care Group addressed the delegates remotely, welcoming them and emphasising the importance of heart health and medical research in this field.
Shake is an acronym for Saving Heart Attacks-Key Efforts and in the two days, eminent cardiologists and physicians from across the UAE, including cardiac surgeons and abroad leading doctors were joined by leading doctors from the Emirates Cardiology Society to highlight the latest studies and showcase latest medical practices in cardiology in several lectures held at the venue.
Saving deaths and damages from heart attacks
Commenting on the importance of the event, Dr Brajesh Mittal, Chairman of Shake Heart, Deputy Medical Director and consultant Interventional Cardiologist as well as head of the cardiology department of Medcare Hospital, said, "The event headline is Saving Deaths and Damages from Heart Attacks. Myocardial Infarction is the medical term for heart attacks where the sudden block in one of the leading arteries to the heart, blocks blood supply and damages the heart muscle. It is said, time is muscle and maximum deaths and long-term damage in heart attacks occurs because patients have not been taken care of in the right time."
Dr Mittal further added that the need of the hour was creating awareness and consolidating research considering the high incidence of heart disease and lower average of incidence at the age of 40, of the disease in the UAE as compared to the global average which was 50 years.
About Shake Heart
---